I have been driving for Lyft part-time for the last three years or so and have given 1000+ rides. I always thought of Lyft as a honest, caring company and I preferred them over Uber, primarily based on reputation and I just recently started driving for Uber a few months back, and here's why.
Uber never lied to me or at a minimum "decieved me".
This isn't about promises of making $35/hr. (I technically earn less than $5/hr in the situation I will describe below) or thep poachingof drivers that goes on with both companies. This one to me is dubious..."sneaky" at best.
Here's my issue: When you go to the driver's app and click on "Dashboard" and then click on the "Hamburger Menu" on the upper left hand corner, a menu will pop up that gives you choices, such as "Tax Information, "Driving History" "Payout Information" and "Rate Card" as you see here: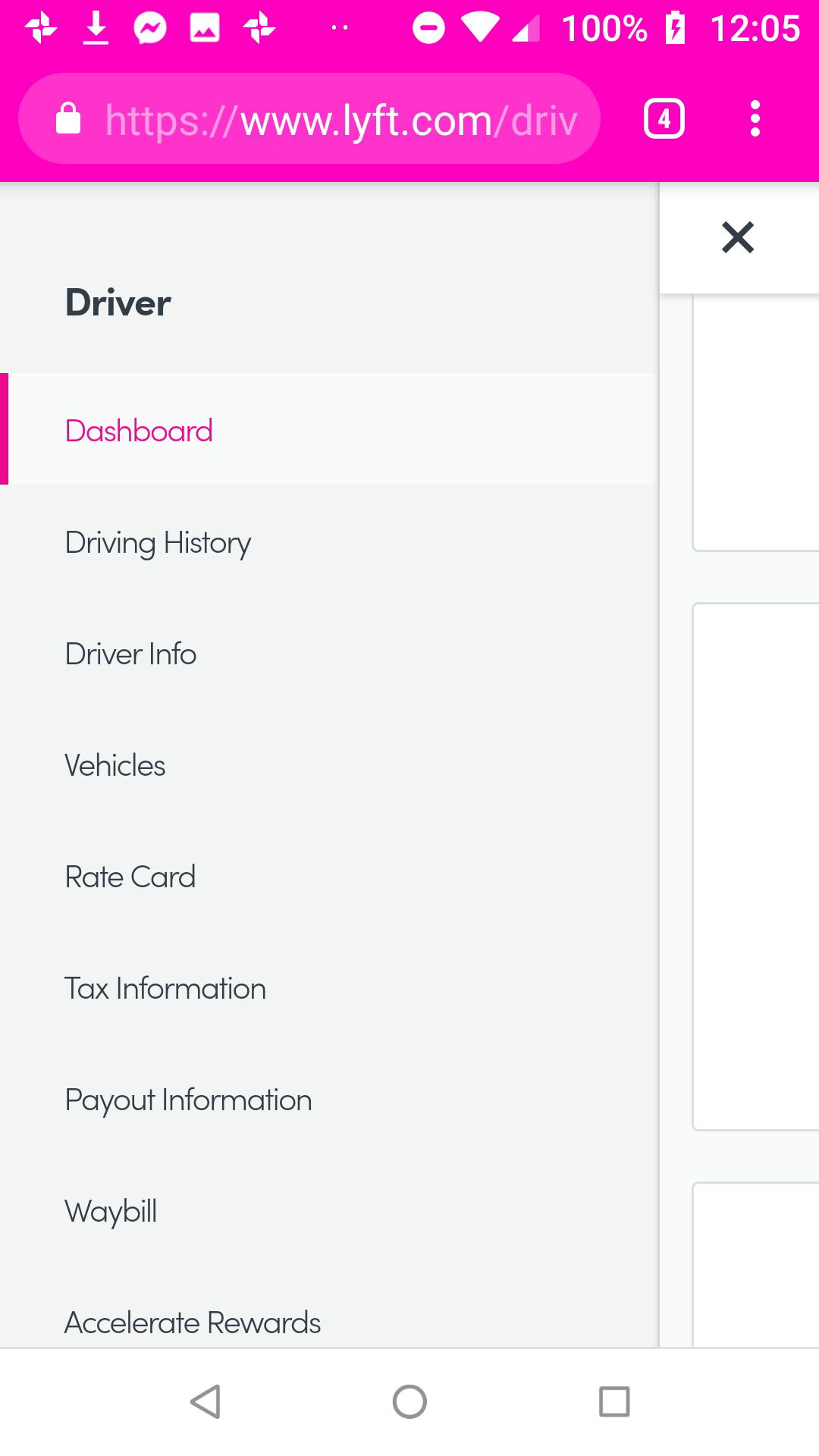 When I click on "Rate Card" a map pops up: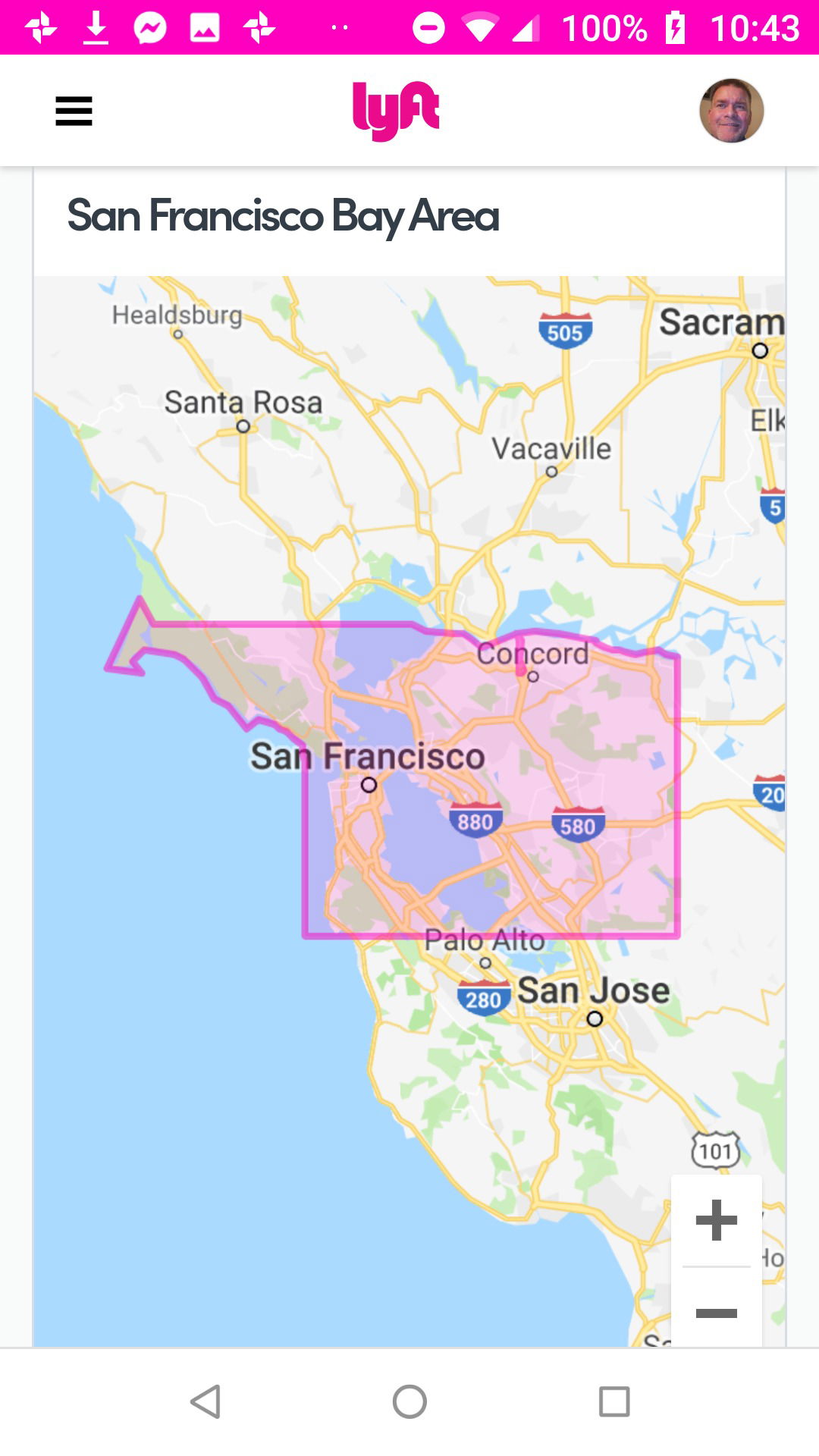 Note that the map is outlined and stretches all the way from the coast of San Francisco to Brentwood, CA which is about 50 miles East. On that same page you will see in bold letters "This is the amount you'll take home" and you'll see exactly what you will be paid... But not so fast! Kids, always read the fine print.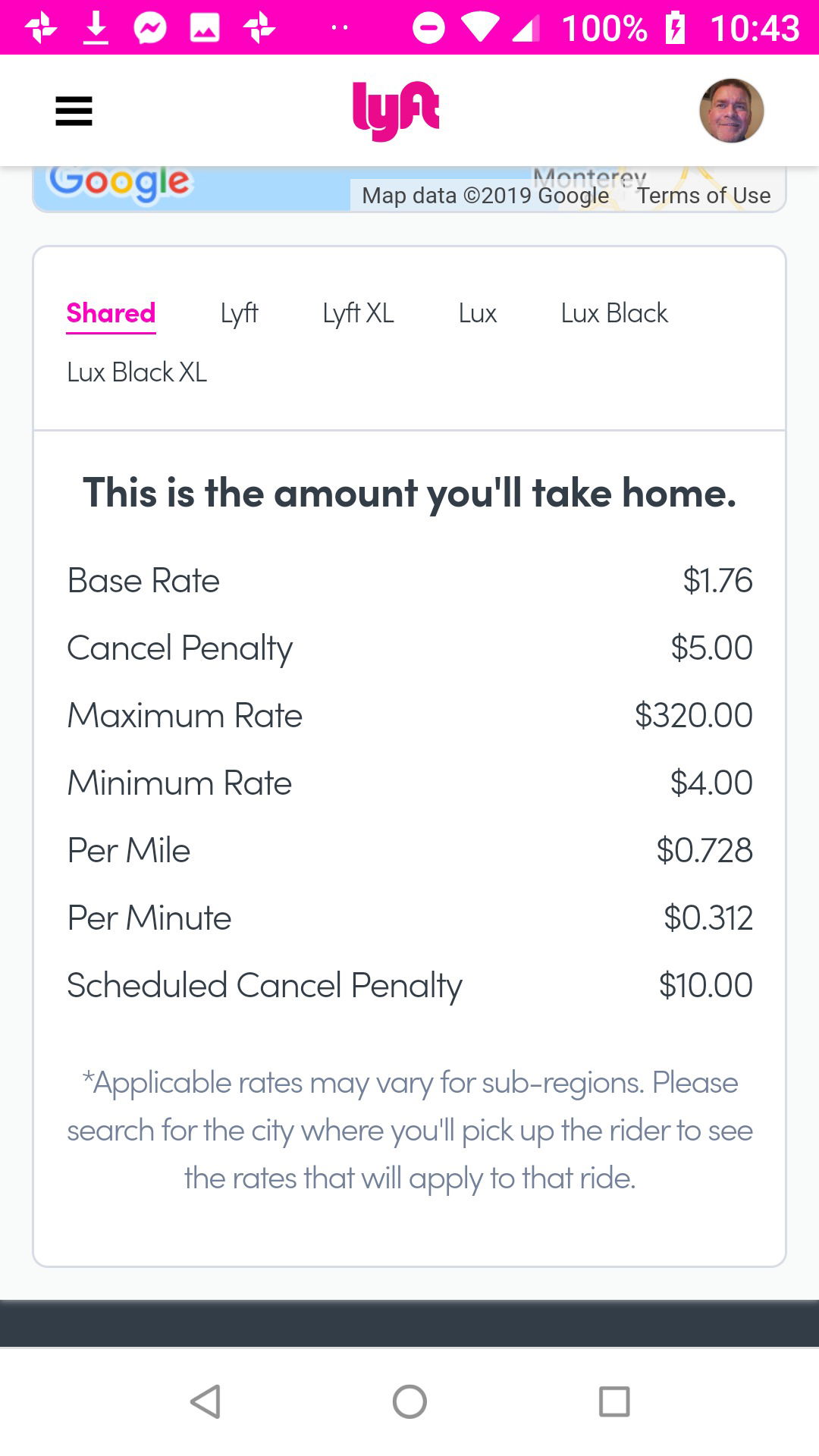 I feel like an idiot for not reading the fine print all these years, but seriously can you blame me? As you can see, it says there are "sub-regions" and to see those SUB-REGION rates you are instructed to enter your specific city. For those who missed it because it is so small the keyword here is "SUB-REGIONS". So, you might think certain cities have different rates based on specific municipalities or taxes that specific city has,, which I would not have a problem with if that were the case. Take a look at what happens when you enter "Oakland", or "Berkeley", "Orinda", "Lafayette", "Walnut Creek" and all the way out to "Brentwood" for that matter. This is what you will see: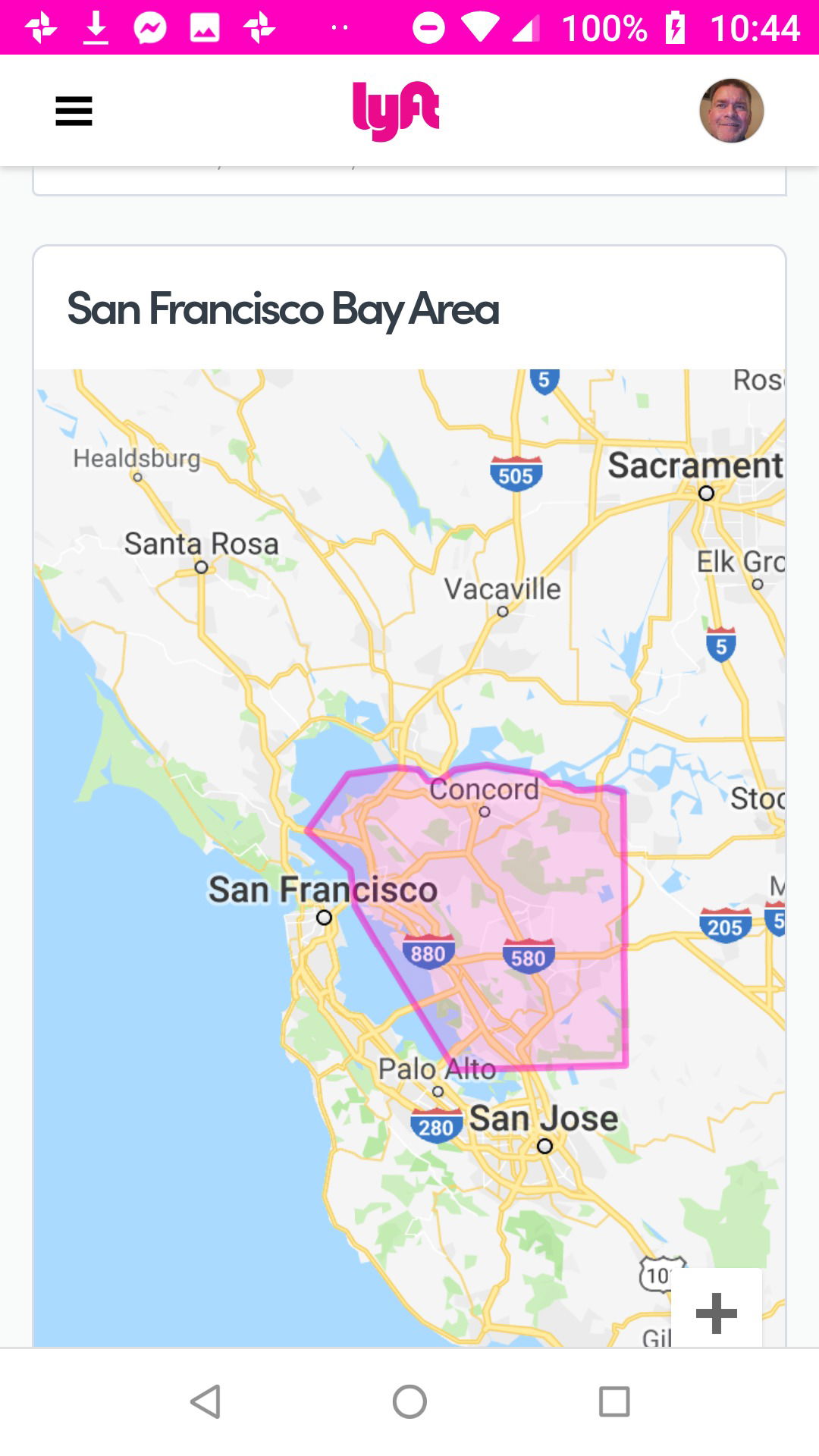 Woah! That's a whole new outline! One heck of a "SUB-REGION", don't you think? And here's the Rate Card on the same page: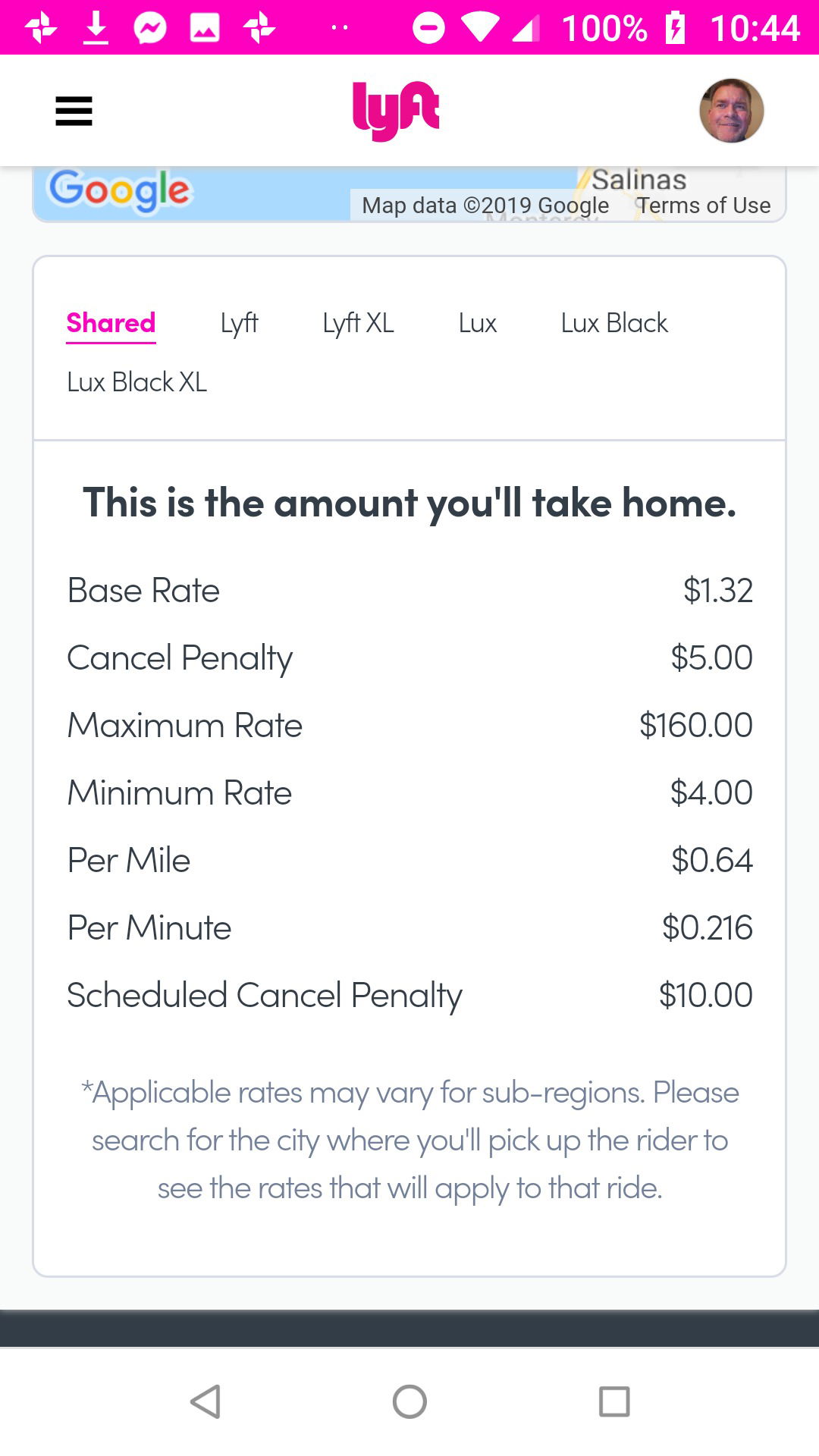 What?! That's not what I was lead to believe I was earning when I clicked in the Rate Card from my Dashboard the first time! Actually I probably missed it three or four times. Based on some "deep Googling" it appears this has been going on for years (East Bay pricing being less than SF and a few surrounding cities) in very unclear backhanded ways. I recently found an email from Lyft that links to an addendum that I missed, but it is equally tricky to understand and not upfront at all. Here's the mention of the addendum from March 2018 (the last part- to see the amendum in it's entirety, you'll find it after I finish with this "San Francisco Bay Area" rate card business). Consider it "extra reading" for those who like all the details.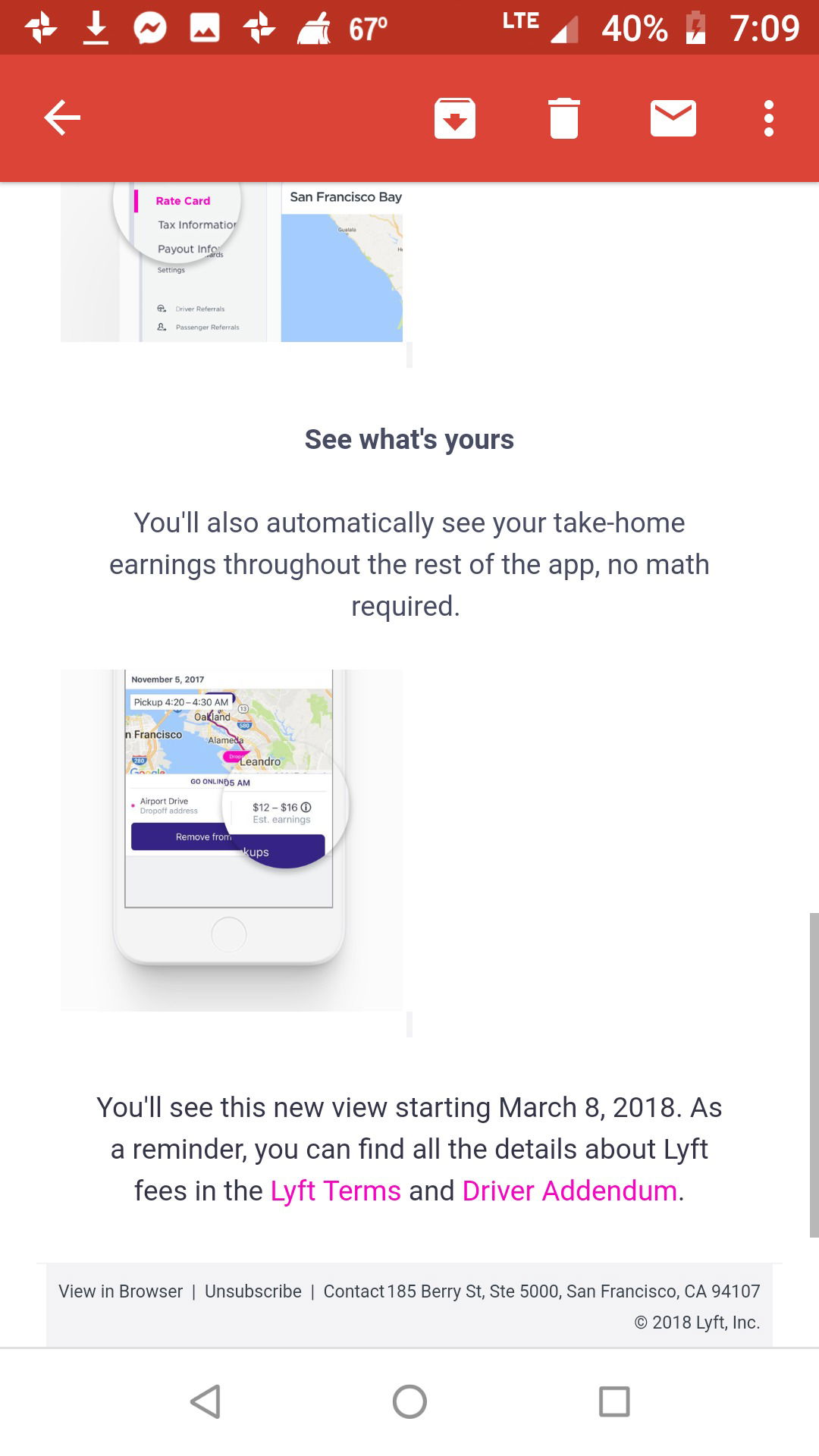 This an email that talks about how much more transparent and upfront Lyft will be in the near future... Yah, right. "Addendum" right there at the bottom of the long email. At least it's in Lyft Pink.
Based on the Rate Card, a 10 mile, 20 minute ride starting in San Francisco would pay $15.28* but pretty much anywhere else is the "San Francisco Bay Area" the same ride/amount of work (though it is a bit more difficult to drive in the city, admittedly) would pay $12.04*. If I gave 10 similar rides in Oakland or anywhere else other than the city of San Francisco & few surrounding cities I'd make $120.40 (minus expenses of course)*. In San Francisco I'd gross $152.80*. That's nearly a 25% difference in pay. If one we're to drive and make 10 similar rides 5 days a week for 50 weeks they would earn $8,100 less than Lyft claims (IMHO) in most of the "San Francisco Bay Area".
Remember "The Battle of the Bay" in 1989? San Francisco Giants vs. Oakland Athletics. Oakland is and always has been considered part of the Greater Bay Area, AKA The San Francisco Bay Area, as is every city listed and more. Note that both maps have the same title: "San Francisco Bay Area".
Why not just say "This is what you'll take home in San Francisco" and "This is what you'll take home in the East Bay"? My guess is this is the work of a corporate machine that may have started out with good intentions but clearly lost their way and let greed take over.
Lyft? I thought you were supposed to be the "Good Guys" and I've always heard you "treat your driver's better" than Uber. You have a reputation to uphold and this is not how you should be doing business.
I feel duped. Fine print. Boo!. I'm an independent contractor and as a person who believes honesty is the best policy, I'm not happy with this type deceptive advertising (as I see it).
Update: Lyft, you are dead to me. Goodbye!